A last minute trip down to Portland left me with little time for research and so I had to let my stomach guide me on this one.
Voodoo Doughnut is a popular place among locals and tourists alike. I had no clue where I was going and after wandering Down town Portland for a while, we stumbled across a long line-up of hungry looking customers...We knew we were in the right place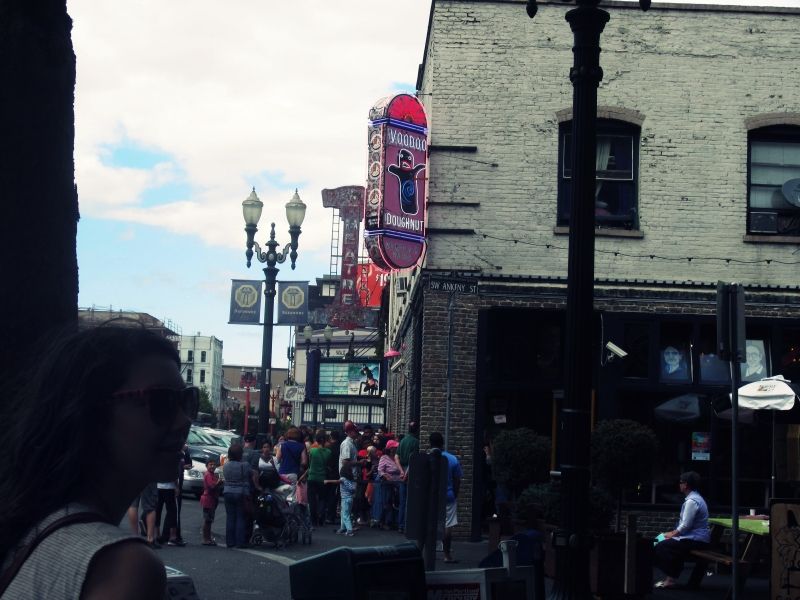 They only let a limited amount of people in at a time but the line-up moved pretty quick. I think we waited a total of 20 minutes....Waiting for food bugs me so I was hoping it would be worth it! On a positive note, I finally did not feel out of place taking pictures with my camera, it seems everyone else had the crazy flame inside their minds and they were all snapping away around the shop
I had no idea what to order when we got in, I would have liked to see pictures and descriptions of each item but I went with whatever names I liked the sound of. We got our food in the giant pink box (which I later lugged around with me, while people commented on my doughnuts) and sat down outside to enjoy our sugary treats.
You can check out the different doughnuts here. I figured since it was my first time here, I should try the Voodoo Doll - Raised yeast doughnut filled with raspberry jelly topped with chocolate frosting and a pretzel stake! (characteristics of Voodoo Dolls are all different)
I thought it was a great doughnut, fun to eat, great to look at, what's not to love!?
Top Left: Chocolate Ring, Top Right: Old Dirty Bastard
Bottom Left: Raspberry Romeo's, Bottom Right: Bacon Maple
I'm not really sure what my thought process was but we ordered five in total. I normally can eat one doughnut in a sitting..and that's pushing it..the health nut comes out in me when it comes to sweets...we could always save them for later.
I'll leave you with a little eye candy (not serious) of yours truly getting the voodoo in me (as the locals call it).
I thought Voodoo
Doughnuts
was a great start to our adventure in Portland, a nice change from the usual Tim Hortons I find myself having here in British Columbia.
It was a neat vibe with all the like minded individuals brainwashed from whatever food show told us to come here (joking....kind of) but all in all It was good and does not break the bank at all :)