85 Westminster Avenue East Penticton, BC
Burger 55
Burger 55 was a stop on my radar during my Penticton Trip.
Custom Custom Custom is a word that comes to mind when it comes to this place. You
can really have your burger however you want it.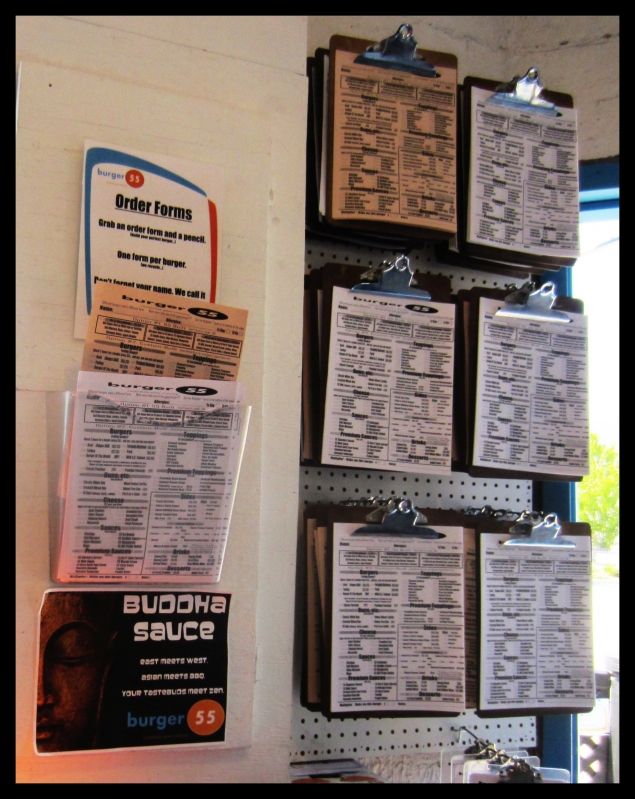 Ordering Wall
When you walk in, to the side there is a wall with a bunch of order forms, where you fill out what you want. To get an idea here is a link to their
online menu
(definitely worth a check out).
You do have to be careful with the ticking off of boxes because the price can sneak up on you :)
Peter's Custom Made Burger
This delicious looking burger consisted of, Beef, 55 Bun, Jalapeño Havarti, 55 Buddah Sauce, Roasted Garlic, Pico de Galo, Baby Spinach, and Cilantro. This added up to be $6.95 which included $5.95 for the initial burger and $1 for cheese. I went pretty cheap on mine but my girlfriends was closer to $11.
This was definitely one of the better burgers I have had, it was made fresh and was absolutely delicious.
As far as favourite burgers go, Romer's, White Spot and Burger 55 are a toss up for first place
I will definitely come back and try something else next time I'm there and I'd check it out if you are ever in the area.
Graffiti Wall