Stepping off a cruise ship onto the Cabo San Lucas Marina area can be a bit of
a sensory overload. For one thing you have a constant bombardment of
people trying to sell everything from whistles to cocaine to you. You also have signs signs sings all over the place, with deals for restaurants..5 beers with salsa and chips for $10..
All drinks 2X1 Happy Hour from 9am-7pm..I think you get the point.
After a long stressful day relaxing, eating, and drinking on the beach (note the sarcasm)
my girlfriend and I started our walk back to the ship. We decided to go to
a restaurant which boasted a nice tequila and cheese fondue dish..Both of
us being fondue addicts could not resist this.
*Note: I don't remember the name of this place, but if you are walking along
the area in the above picture you are in the right place!
We ordered the Fondue Dish to share, and to start they brought out some
fixings to accompany the meal. This particular dish was all about novelty.
Our server came out with a hot stone bowl, cheese, an open flame, and some Mexican
water (tequila). I'm sure you can imagine how this all went down..cheese into the hot bowl, tequila poured through a flam to light it on fire, into the cheese, and onto the table.
This is the finished product. We were given soft corn tortillas to top with cheese
as well as the various fixings. I think the child and pyromaniac in me came out well being
served and eating this dish. It was a great meal and of course right on the Marina it was
great to people watch.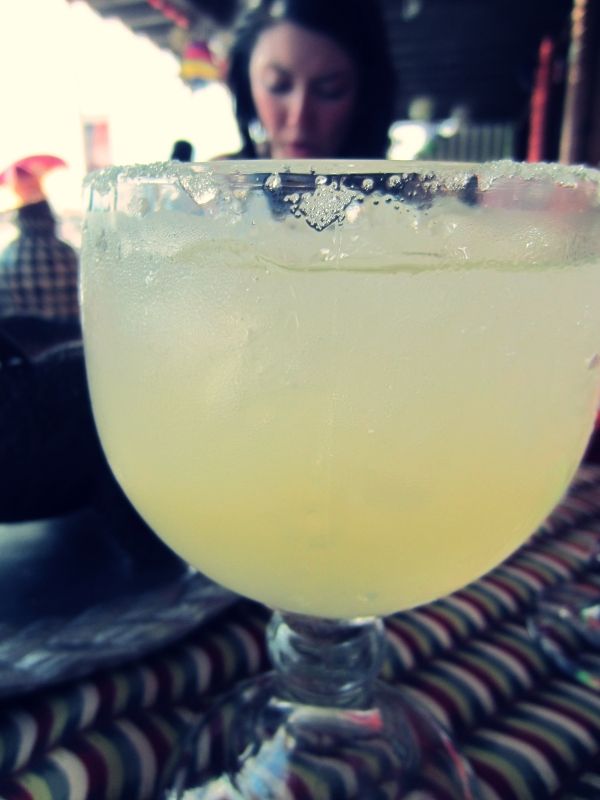 If you thought I was going to eat Mexican food and not have a Margarita
you are out of your mind. Although the earlier afternoon was spent with
similar libations, we could not resist the opportunity to indulge ourselves once more..
It probably wasn't the greatest idea considering you have to take a tender boat back to
the ship...oh well!
That is all for now!