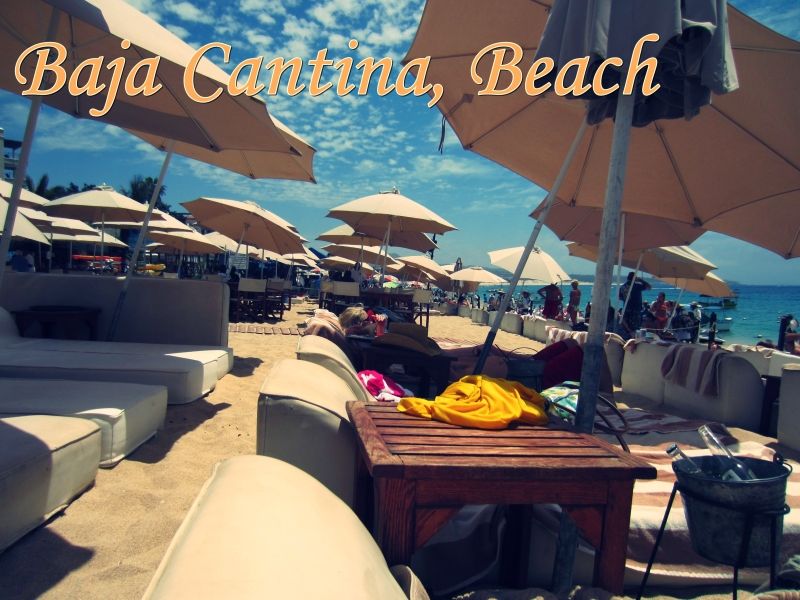 Ah, Cabo San Lucas..the sun, the ocean, food and drink, what more could I ask for?
How about lounge beds on the beach, roped off so you can leave your stuff and not worry about it being stolen...I like the sounds of this.

Medano Beach
Medano Beach is the big popular beach in Cabo San Lucas, and it can be a little intimidating. Big crowds, people trying to sell you stuff, loud music are all present here. My girlfriend and I wanted to relax in the sun and when we saw Baja Cantina with their loungers and exclusivity via a roped off area, we thought why not. I know these pictures aren't really showing a restaurant but trust me..it is one!
So the deal with this place was, if you ordered food and drink, you could use their lounges and pretty much have a sweet spot to leave your stuff all day. After looking at the menu, and being stereotypical Caucasians from Vancouver, we thought we would try their sushi. I don't remember what this roll was, but it had a fantastic cilantro and something sauce on top. Greedily we ate this with the fury of a thousand gods.
Next up, we shared the pork tacos. I found the taco to be fairly bland to be honest, but the rest of the stuff on the plate was pretty great. The guacamole was delicious, as well as the re fried beans.. Typing this out right now I am seriously craving Mexican food, however UBC has none!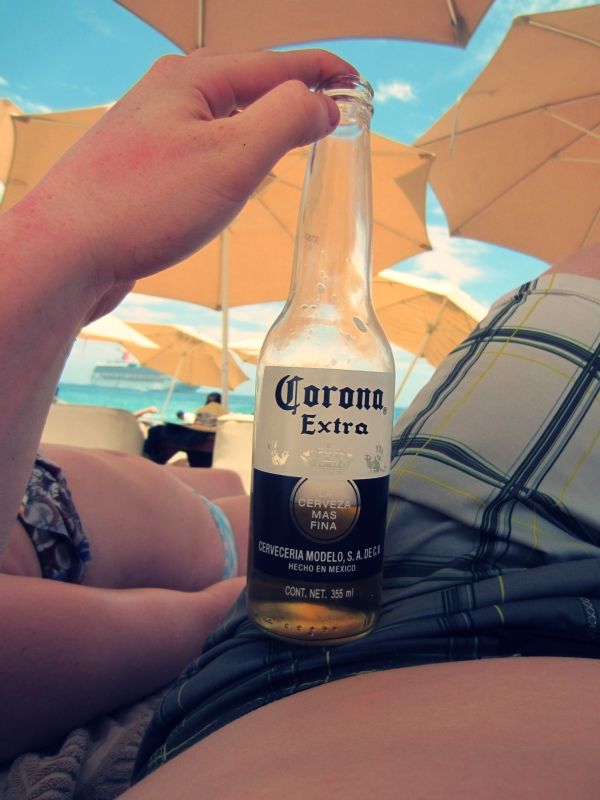 Here is the requisite Corona picture, drinks were 2X1 so when I ordered two beers they came with four, needless to say I was pretty happy. After multiple beers and a rather large margarita I was starting to feel pretty darn good.
I want to finish off with the view we had...absolute perfection. This was such a beautiful area and despite what you hear on the news, I felt completely safe here. As a first timer in Cabo, I absolutely loved it.. There were some great restaurants ( I didn't get a chance to take pictures but Taco Loco is a must try!). Baja Cantina was great because you could get up and leave your stuff for a good 40 minutes and there were no worries..as long as you were drinking or eating you were fine to stay there for a good 4-5 hours. The music was great too!
Stay Tuned for more eats in Mexico!
Website:
http://www.loscabosguide.com/bajacantina/bajacantina-beach.htm